Artist Statement
I've come to understand now that my paintings are not so much compositions a separate spaces. Although two dimensional for the most part they are a space for the viewer to visit. They open up a quiet moment, a place to rest. They are somewhere to come in order to revisit a lost past within oneself, to stir an old memory, to bring the mind to a place of stillness where we can hear her own thoughts again. Deep quiet reflection is something greatly undervalued in our culture at the present moment. It is where we answer our own questions and are able to hear important new ones. It is necessary to keep the heart full.
I often reference intuitive impressions of places and situations. I am not depicting a particular space or idea, preferring to lead the viewer into experiencing an internal shift into the feeling or atmosphere of the subject. Many years of making representational art taught me, for myself, that type of artwork was not the way to access these mystical places and share them with other people. It feels magical to paint this way, so I do.
BIO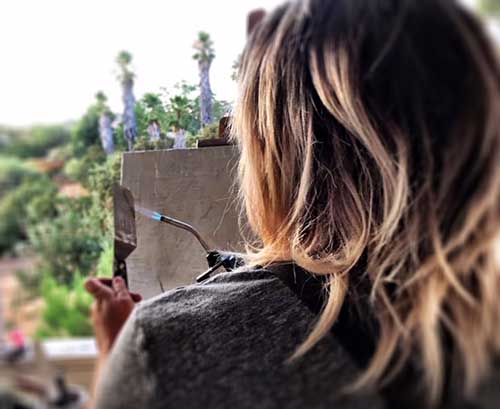 Stacy Nixon lives and works from San Diego's back country and Northern New Mexico. Her artwork utilizes plaster, pigment, paint, wax and gilding. Through many years spent studying fine art and applied design, Nixon has developed a style which reflects an empathic experience of her surroundings and her inspirations range from contemporary music to ancient art. Nixon focuses her efforts largely on intuitive impressions of exceptional confluences between places and situations.
Recent Exhibitions and Events
Salaan Magazine – Winter 2019 Edition
Athenaeum La Jolla – 28th Annual Juried Exhibition 2019
Juried by Anthony Graham, Curator San Diego Museum of Contemporary Art.
"Untitled 5" selected for printed program cover and online announcement.
La Jolla CA
San Diego County Library – Juried Exhibition and Community Engagement 2019
San Diego CA
Santa Ysabel Gallery – Collection Showing 2019
Santa Ysabel CA
2Create Gallery – Abstract group show 2019
San Diego CA
2Create Gallery -Artifact group show 2018
San Diego CA
San Diego Art Institute – Juried Exhibition 2018
San Diego CA
Atheneum La Jolla – 27th Annual Juried Exhibition 2018
La Jolla CA
San Diego County Library – Juried Exhibition and Community Engagement 2018
San Diego CA
"Sometimes language fails us in our explanations of the secret and mysterious workings of things. I love painting because it never fails me there."
— S. Nixon